Help in our Communities & Supporting our Serving Members
As members of the RCMP Veterans Association, our key mandates include looking after our retired colleagues, supporting our serving members and engaging in outreach to our communities.
Serving RCMP Members are often the first on-scene in situations involving children or individuals who may experience mental anguish, stress or other forms of anxiety resulting from an accident, emergency or other situation. In an effort to provide comfort to these children or individuals, our Association provides every RCMP Detachment across the Island with stuffed, plush "Moose Mounties". These furry friends take the form of a cute moose wearing the iconic RCMP Red Serge. The Moose Mounties represent our commitment to helping people in times of stress and can reassure them during times of uncertainty.
The Moose Mountie is kept by the recipient, providing a great legacy of the Force and reinforcing our dedication to our communities – as serving and retired members. The PEI Division of the RCMP Veterans Association made the initial investment to provide two Moose Mounties to each Detachment on the Island. To ensure the Detachments have the Mounties always available, our Veterans have committed to individually sponsor them as they are needed.
Scott C. Ferris President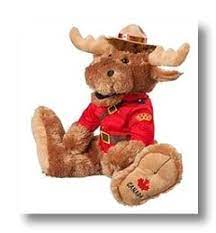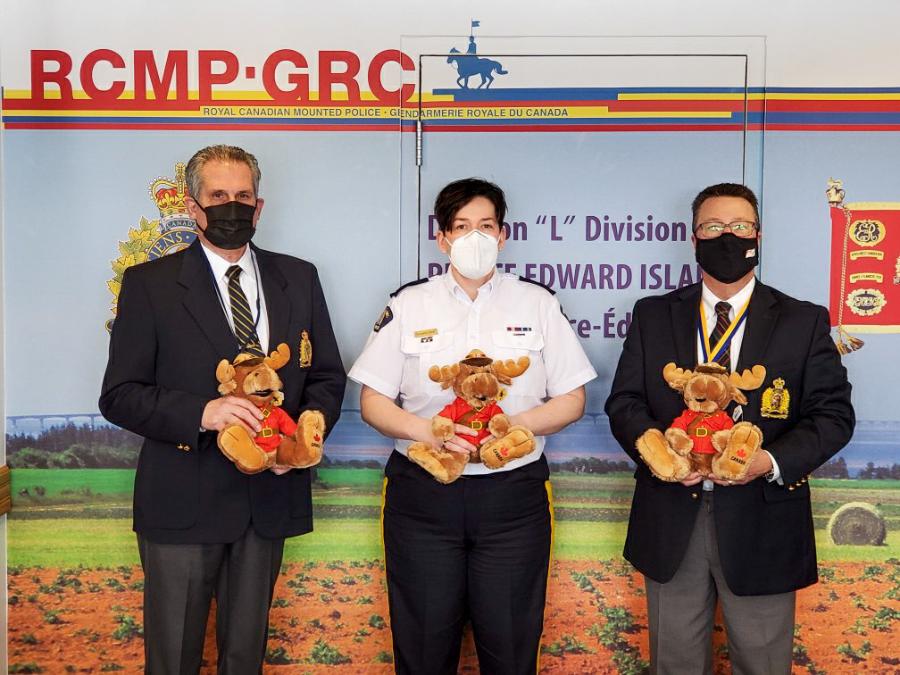 C/Supt. Jennifer Ebert, Commanding Officer "L" Division (PEI), accompanied by President Scott Ferris and Director of Advocacy, Rick Chadwick, RCMPVA (PEI), kick off the "Moose Mountie Project". Assisted by Cst. Ian Allen, the Moose Mounties were installed at their units.
CO's Communique: Welcoming the Moose Mountie
To All Employees,
I am pleased to share with you, in collaboration with the RCMP Veterans Association – PEI Division, the launch of the Moose Mountie project.
Moose Mounties, a stuffed moose dressed in red serge, are available to on-duty members to use when interacting with a child that is injured or in distress, or when needed as a source of comfort for a person suffering from a dementia-related illness. The Moose Mountie can be kept by the person it has been provided to.
Moose Mounties will be available in the Kings, Queens and Prince Districts, and with the Major Crimes Unit.
If you provide a Moose Mountie to a person, please contact Scott Ferris, President, RCMPVA (PEI), to order another. [(613) 983-4242, or email at scferris@gmail.com].
Thank you to the RCMPVA (PEI) for helping us provide comfort to those in our community.
Stay safe, be kind and stay connected.
C/Supt. Jennifer Ebert,
"L" Division Commanding Officer.